BlueHost virtual private server (VPS) hosting is a popular web hosting option offered by this top web hosting provider. VPS hosting is a great option for those websites that have outgrown shared hosting or those that need dedicated resources and want more control over the hosting environment. In this article we will take a look at the BlueHost VPS web hosting plans to see pricing and the features that are included in each plan. With VPS hosting you never have to worry about other websites interfering with the performance of yours. Read our BlueHost review to learn more about BlueHost virtual private server hosting.
BlueHost VPS Web Hosting
First, let's talk a little about what VPS hosting is. A virtual private server is similar to a dedicated server but a lot cheaper. A VPS provides a set portion of a servers resources to be dedicated to your account. This partition of the server is only available for your web hosting account. It runs independent of the other accounts on the same server. You can choose your own operating system and software that you want to run and will even have the ability to restart or make upgrades without having any impact on the rest of the server. BlueHost offers several VPS web hosting plans that you can choose from, this also allows you to upgrade your plan with additional services when you need to.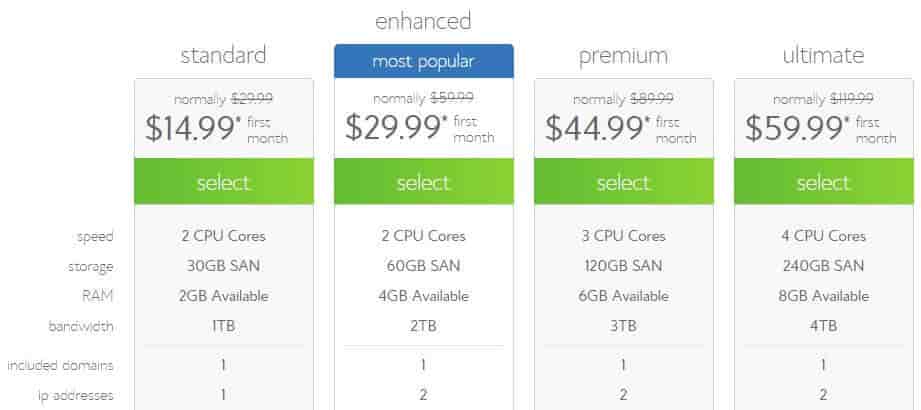 As you can see from the screen shot above, VPS hosting plans start at just $14.99 for the first month with a regular monthly price of just $29.99. All four plans include 1 domain name and all but one of them includes 2 IP addresses. The chart also shows how much bandwidth, RAM, storage, and CPU cores (providing you with optimal speeds for your account) are included on each of these four BlueHost VPS plans. Every plan comes with a money-back guarantee and 24/7 support so trying the service is virtually risk free. If you choose to cancel within 30 days you'll get a full refund but you can cancel anytime after that and get a pro-rated refund for any unused portion of the subscription you have paid for.
BlueHost VPS Hosting Features
Some additional benefits of using BlueHost VPS hosting include the following added features:
Extreme Performance – state-of-the-art components and powerful technology provide breakthrough speeds.
Instant Provisioning – VPS servers are provisioned for immediate use.
Guaranteed Resources – BlueHost VPS uses KVM hypervisor, ensuring your resources are available at all times.
Dynamic Resources – cPanel allows users to add additional storage at anytime, without admin assistance.
Enhanced cPanel – the cPanel control panel is included on every account with added special tools for VPS management and WHM control.
Cloud Technology – BlueHost VPS servers are built on cloud technology for the most reliable web hosting experience.
BlueHost has been known for their reliable shared hosting services for many years; their VPS plans are no different. BlueHost is dedicated to providing the best web hosting service to each of their clients. Whether you are looking for basic shared hosting, VPS hosting, or dedicated servers, they make sure to provide the most dependable service for every type of hosting. In addition, BlueHost also offers WordPress hosting. Visit the website to get full details on each of the web hosting plans they offer and talk to a service rep through the live chat if you still have questions.