In this BlueHost vs HostGator article we will compare the pricing and features of these top web hosting providers. Choosing the best web hosting service for your company is really important and not a decision you want to make without some solid information. That is why we are taking the time to compare BlueHost to HostGator and other web hosts. A few things you will want to consider when comparing web hosts are the price, features, customer support, and upgrade options. We'll compare these elements of both BlueHost and HostGator here.
BlueHost Web Hosting 
We've used BlueHost web hosting for many years and have been very satisfied with the web hosting and the support we've received. BlueHost has made a lot of changes in the last few years but these changes have all added options that make their web hosting service even more valuable.
Shared Hosting
Features, Pricing, & Upgrades
BlueHost offers three shared hosting plans for beginning webmasters to get started without investing a lot of money upfront.

The screenshot above shows the current pricing for the three basic shared hosting plans. A webmaster can get started for less than $4 per month for the initial term. All three plans come with:
A free domain
Unmetered bandwidth.
Other resources vary, based on the plan you choose. The business pro plan provides:
Unlimited websites
Unlimited email accounts
Unlimited email storage
Unmetered webspace
Unmetered bandwidth
Both the plus and business pro plans offer:
Additional marketing offers
A Global CDN
SpamExperts
We aren't going to go into great detail about these features but want to touch on them because they show how many options there are with BlueHost. In addition to the shared hosting, BlueHost also offers Cloud Sites, WordPress hosting, VPS hosting, and dedicated server hosting. If you are a beginner webmaster, all those things may not mean a lot to you right now. But as your website grows and you need additional resources you will be very glad to have these other types of web hosting options available for your website.
BlueHost Support
BlueHost support is exceptional. From initial pre-sales questions to setup and customization of your account, BlueHost support is always available to answer your questions or assist with any issues that come up. We love the web hosting tutorials because we can look up whatever it is we are trying to do and get a quick online tutorial for how to accomplish the task. On the rare occasion we've need additional help it was always easy to use the online support of toll-free phone number to get a live person to answer our questions and provide help. You'd think this would be standard, good-business practice but unfortunately it's becoming more the exception than the rule.
HostGator Hosting
Next let's compare what HostGator has to offer so you can determine which is the best option for your needs.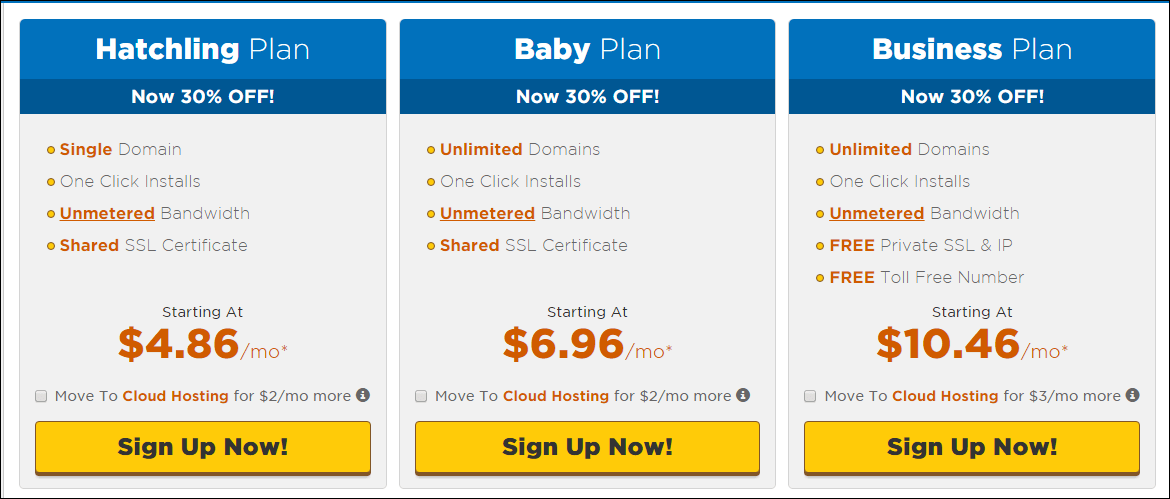 From the HostGator pricing screenshot you can see the basic details of the three shared hosting options. Like BlueHost, HostGator offers three plans to choose from. If you are new to hosting you'll likely start out on the entry-level plan but it's good to know what other options are available in case you get to the point where you need additional resources and want to upgrade your plan. Similar to BlueHost, HostGator also provides unmetered bandwidth. Other similarities between BlueHost and HostGator include the options for other types of hosting. HostGator also offers cloud hosting, WordPress hosting, VPS hosting, and dedicated server hosting. Both HostGator and BlueHost have reseller hosting options and affiliate programs for people that are looking to make some money through web hosting.
HostGator Support
HostGator offers several support options to all of their web hosting clients. Like BlueHost, they have a toll-free number, live chat, or a ticket system. They also have video tutorials and a forum that you can use as self-help for answering a lot of general questions or learning how to install or set up an application or feature on your account.
Overall, BlueHost and HostGator are pretty similar. You will see a slight difference in pricing and features included in each plan. We recommend talking to both BlueHost and HostGator staff to get answers to any specific questions you may have and to determine which is the best hosting option for your website.